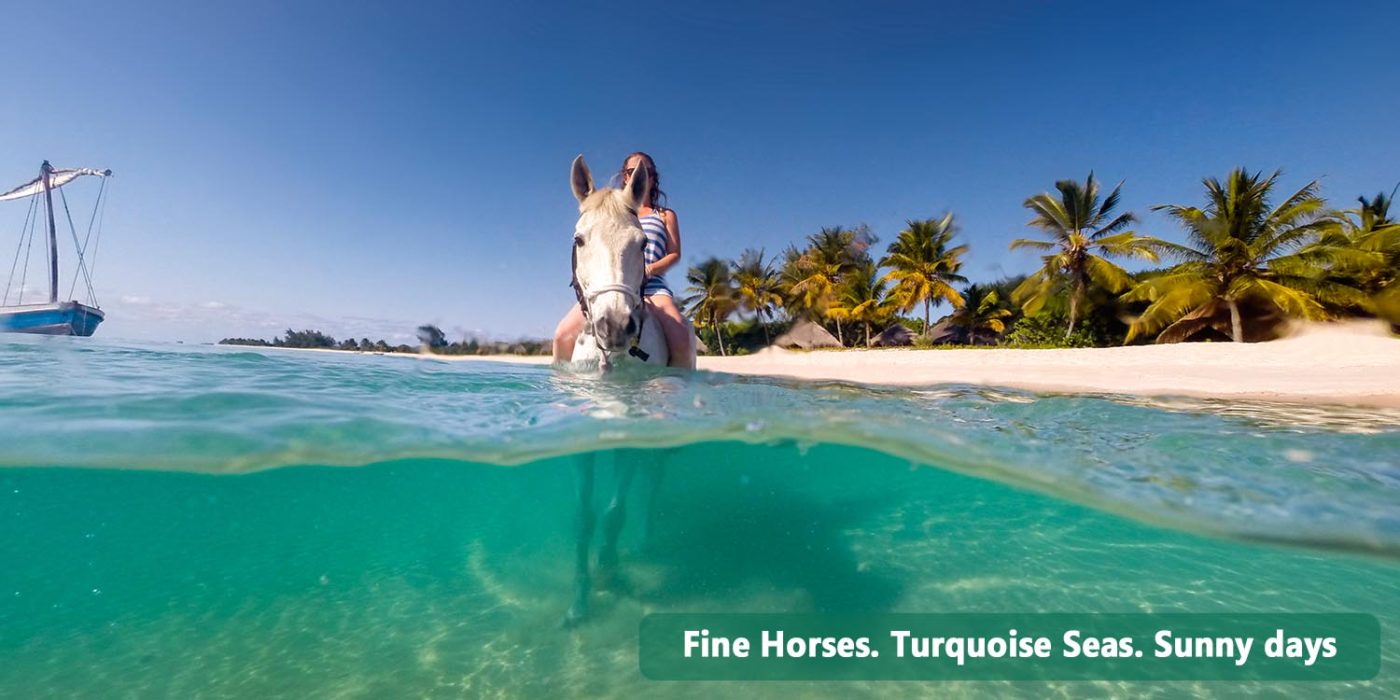 SWIMMING HORSE RIDE: USD $ 60.00 (30 – 40 mins)
An incredible experience and something you will never forget. Lead your horse into the sea; you will feel a sense of excitement as they thrash the water, then lay down to wallow and roll.
Once the horses have settled, you will mount bareback and wade out to the deeper water, the majority of time your horse will be attached to a long lead rope for safety. As you get into the deeper sea you will feel the exploding surge and strength as the horse propels forward. It is an experience that cannot be described, each horse is different and it is truly something not to miss.
The swimming ride is ONLY in calm conditions and at high tide when the water is deep. It is best for people with some experience and the weight limit is 80 kg's. Minimum of 3 people.
OCEAN WALK: USD 60.00 (1 hour)
Tune into nature riding bareback along golden beaches with swaying palms, through lines of mangroves before wading chest deep into the blue turquoise seas on an incredible ocean walk.
Ride Time: 35-45 minutes bareback.
Playtime: 15-20 minutes on the beach with horses on a lead wallowing and rolling in the water.
SWIMMING HORSE RIDE & OCEAN WALK COMBINED: USD $ 100.00 (1.5 hours)
Combine our world famous Swimming Horse Ride with an Ocean Walk for an unrivalled equine experience you will never forget. For details of the rides please see below.
Price Includes: Horse riding, lead groom if necessary, helmets & chaps.
Price Excludes: Taxi service and any drinks, alcohol or food bought from restaurant.
Method of Payment: Preferred method of payment is Mozambican metical, your taxi driver can stop at the ATM on your way from town. If necessary payment can be made via debit/credit card at Archipelago Resort, please note you will incur a 3% service fee for bank charges.
Weight Limit: 90 kgs. For riders heavier that 90kg's, please contact us beforehand and we should be able to make a plan.
Location: Chibuene, South Beach, Vilankulo. From Vilankulo follow signs to Archipelago Resort, our coordinates for GPS are 22°02'20″S 35°19'17″E
Taxi Service: The taxi service costs USD 20.00 / MZN 1,200 per vehicle for a pick up and drop off from your hotel / resort / backpackers in Vilankulo town. Please note that local taxi drivers only accept cash and do not have card facilities.
What to Bring: Swimming costume, camera, change of clothes, long-sleeved t-shirts to avoid sunburn, hat & sun protection.
Tips: We recommended a 10% tip for grooms if you think they have done a good job and the riding experience has lived up to your expectation.
TripAdvisor: Mozambique Horse Safari is currently rated #1 activity in Vilankulo & is amongst the top 3 activities in all of Mozambique. To hear what past guests are saying please have a look at TripAdvisor.