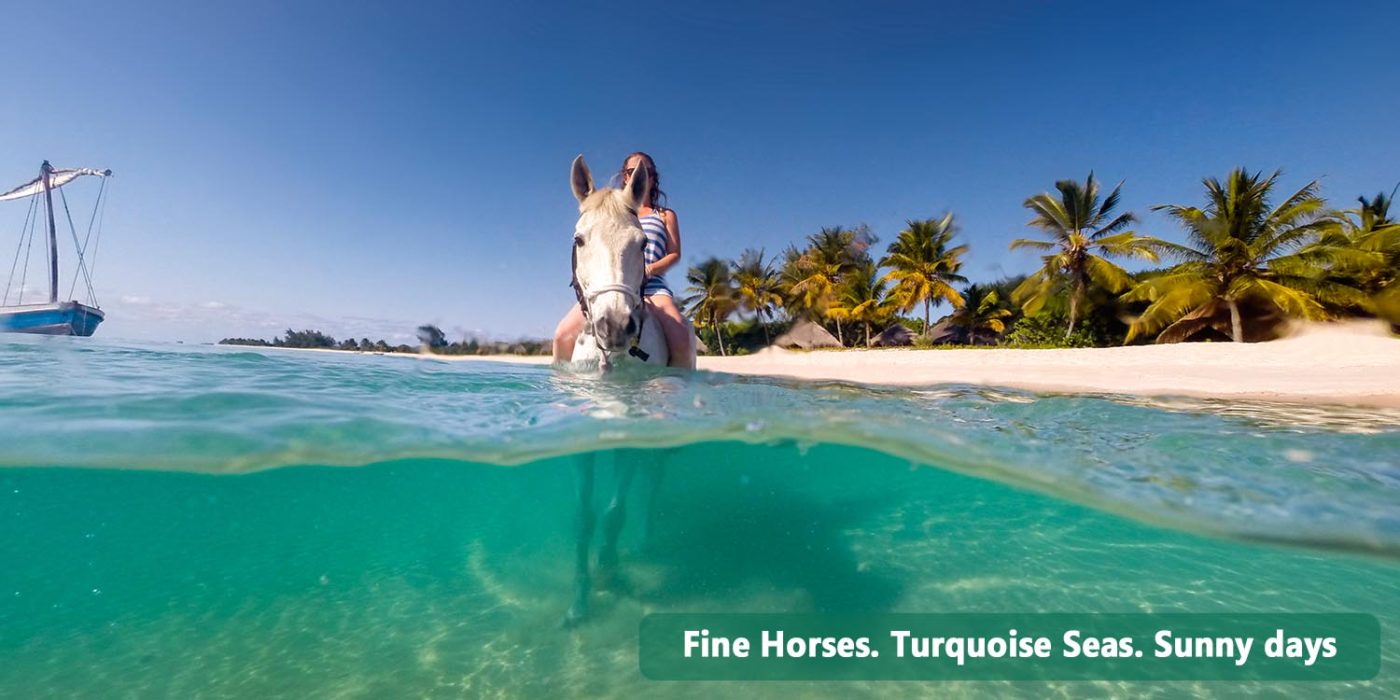 Fishing Village Ride (Vilankulo Only): USD $150.00 per person incl. lunch
The Fishing Village Ride is extremely popular, completely authentic, rich in cultural experience and brings much appreciated business to a locality well off the beaten track. It also means that the locals who once feared the horses, have a better understanding and involvement with them in their community.
The visit to the local fishing village was so interesting and the children danced dramatically better than we could manage! Jane & Chris House, UK
Fishing Village Ride: Rough Itinerary
Our 3 to 4 hour ride (2 hours riding) starts at 11.30 am and covers a similar route to the Standard Ride. On nearing Mangalise Fishing Village you will hear the distinct chatter of laughing children and will be greeted by a horde of smiles. When you have dismounted, our hosts will take you to a simple thatch shelter in the village. Hands are washed and newly harvested coconuts are cracked open, the refreshing juice is rich reward after a long ride. Over time a traditional lunch is served, fresh crab from the beach, grilled fish from the mornings catch and Matapa; a Mozambican dish made from cassava leaves, nuts and coconut milk. After your meal the children come out to sing local songs and dance, their smiles and energy make the occasion feel very special.
After lunch, we continue our ride through the rural village and head onto the "Fingerprint of God"; a magnificent viewpoint overlooking the Bazaruto Archipelago. You will be captivated by colourful dhows gliding along the channels and fisherwoman hunting crab in the shallow sands.
The ride continues along a winding beach path through dune bush and back onto the beach towards home and the stables. A dreamlike experience not to be missed for experienced & intermediate riders as well as beginners & first timers.
Mozambique Horse Safari is currently rated #1 activity in Vilankulo & is amongst the top 3 activities in all of Mozambique. To hear what past guests are saying please have a look at TripAdvisor.
Price Includes: Horse riding, lead groom if necessary, helmets & chaps.
Price Excludes: Taxi service and any drinks, alcohol or food bought from restaurant.
Method of Payment: Our preferred method of payment is Mozambican metical or USD, if coming by taxi the driver can stop at the ATM on your way from town. Payment can also be made via debit/credit card at Archipelago Resort, please note this will incur an additional 3% service fee for bank charges. We also have a PayPal account if you get stuck
Safety: All riders are required to wear a riding hit. We will also provide a groom to lead your horse if you are a beginner rider.
Weight Limit: 90 kgs. For riders heavier that 90kg's please contact us beforehand and we will arrange for a bigger horse.
Location: Chibuene, South Beach, Vilankulo. From Vilankulo follow signs to Archipelago Resort, along the route you will see a sign for Dona Soraya – follow that and you will end up at the stables. Our coordinates for GPS are 22°02'20″S 35°19'17″E
Taxi Service: The taxi service costs USD 20.00 / MZN 1,200 per vehicle for a pick up and drop off from your hotel / resort / backpackers in Vilankulo town. Please note that local taxi drivers only accept cash and do not have card facilities.
What to Bring: Camera, trousers or jodhpurs, long-sleeved t-shirts to avoid sunburn, hat & sun protection.
Tips: We recommended a 10% tip for grooms if you think they have done a good job and the riding experience has lived up to your expectation.
Quick links: Horse Volunteer Africa, Horse Safari Africa